CareVets Horsham Downs has a suite of medical, diagnostic and surgical facilities along with a range of pet food and supplies. With our separate cat and dog consultation rooms, we can help with a sore tooth, a mystery lump, an itchy paw and everything in between. We also offer puppy preschool to help teach your newest canine family member the basics and offer a safe environment for early socialisation.
Opening Hours:
| | |
| --- | --- |
| Monday | 8:00am – 5:30pm |
| Tuesday | 8:00am – 5:30pm |
| Wednesday | 8:00am – 5:30pm |
| Thursday | 8:00am – 5:30pm |
| Friday | 8:00am – 5:30pm |
| Saturday | CLOSED |
| Sunday | CLOSED |
| Public Holidays | CLOSED |
If you require veterinary attention outside of our opening hours please contact your nearest After Hours Vet:
Waikato After Hours Veterinary Hospital: 07 839 5656
Our Team:
Dr Holly Richardson
BVMedSci, BVM, BVS
Veterinarian
Holly is our regular general practice Veterinarian at CareVets Horsham Downs and is always waiting to greet you and your pets with a smile. She has a diverse background in Veterinary medicine, graduating from the University of Nottingham in the UK in 2015, and has worked within equine, mixed, small animal general practice and emergency clinics. Holly endeavours to provide a relaxed and low stress visit for both you and your pet and endeavours to make recommendations with an evidence-based approach. Outside of CareVets, Holly spends most of her time chasing her two young children and their Bracco Italiano dog, Luna, around various locations in the Waikato.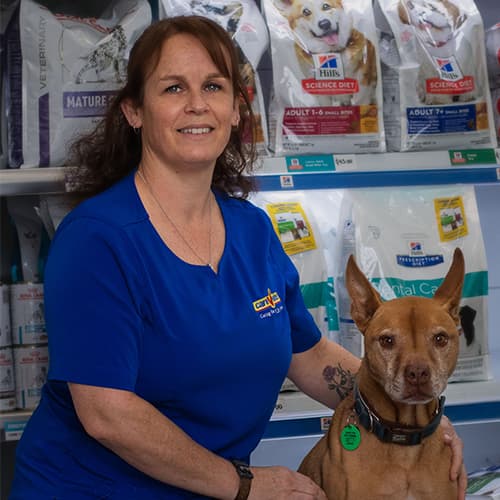 Jo
DVN RVN BSc
Clinic Coordinator
Jo is our Clinic Coordinator and a Veterinary Nurse. Her life is filled with everything animals. She is a qualified Veterinary Nurse and has a degree in Animal Behaviour. Her family consists of 3 humans, 2 dogs, 2 cats and one beautiful horse. Jo's passions include dog training (she runs puppy preschool classes at the clinic) and patient care. She's all about advocating for her patients as they can't speak for themselves but deserve the best treatment possible.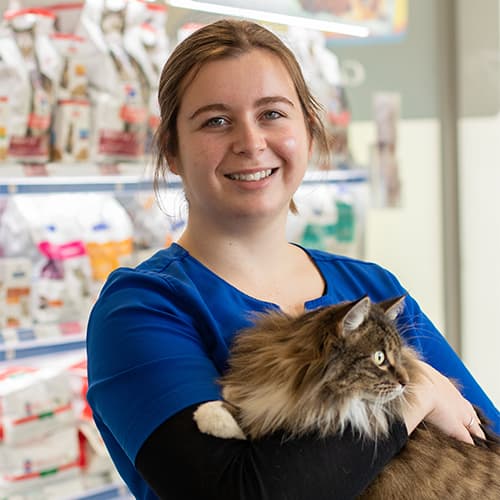 Rosie
DVN RVN
Veterinary Nurse
Rosie graduated in 2021 with her Diploma in Veterinary Nursing, however has been working with animals in the Veterinary industry since 2018. She has always loved animals since she was little and is so excited to start her journey meeting new people and their favourite animal companions! Rosie started working at CareVets Horsham Downs in 2022 is loving every day. If you don't see her there you might find her at one of our other clinics dotted around Hamilton. When she's not working Rosie loves to spend time outdoors doing fun and exciting activities, catching up with family, friends and pets and loves to watch a good show or movie on a rainy day. She has a fluffy cat at home named Sox who loves to come find Rosie whenever she moves about the house and won't say no to one of her favourite cat treats. Come in and say hi! Rosie looks forward to meeting you and your fur children.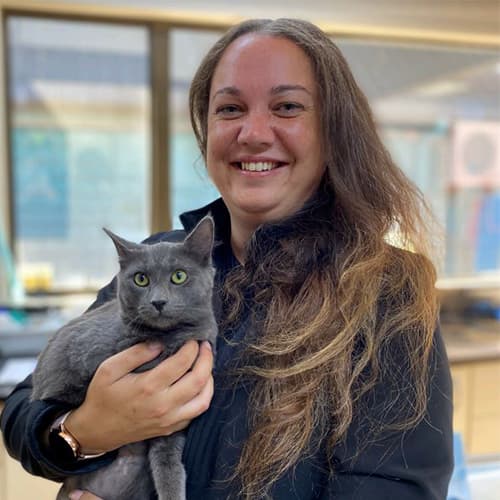 Theresa
Senior Receptionist
Theresa has been a receptionist with CareVets since 2016. She has a background in Biological Sciences and completed her National Certificate in Veterinary Nursing at WINTEC in 2008. Theresa has worked in various animal industries including boarding kennels/catteries, breeding kennels, rescue shelters, racing stables, and dairy and research farms in the Waikato. She has a beautiful Rottweiler.